This is a GREAT device for private communcation on telephone , no body can monitor or record your conversation ,even CAP or The telephone service provider can not do anything on it .
telephone safety keeper telephone encryptor telephone scrambler speech inverter telephone security box phone encryption box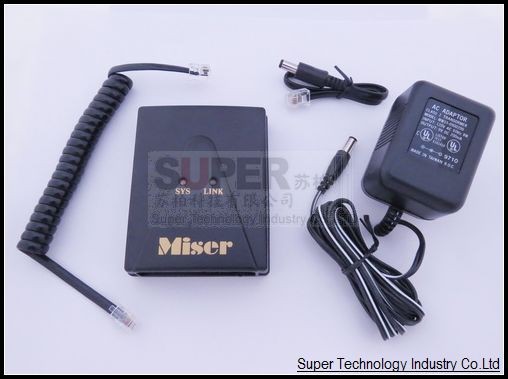 The product encrypt all audio communications from caller's telephone . And decode encryption in receiver's telephone . All communication is safe ,no one can listen even CAP .It is AAA+ telephone communication security protector !!!
Both telephone sets shall install !!!
128bit encription technolgy with million combination of password , it is sky high difficult to decode , any person or company ( even phone service provider ) can not monitor .
Micro CPU control to keep communication private secret and safe by 9 sets of password to . Power by phone line easy to use . Suitable for all country's telephone .
Power : 104-132V AC,60 Hz ±5%
Lasting time : around 8 hours
Standby time : around 16 hours
Take out battery if long time no use .
When you have many persons same this device ,please make a list of your password combination , usually 10 set will be enough ;
When communication is encrypted ,both parties can hear ping-pong sound ,and both party can set to encrypt or decipher during talking .
If talking is not encrypted ,both party can know it easily .
Usage ( simple instruction , because does not have a English printed manual ,so please refer to below ) :
Password setting and installation :
Both parties shall set same password .
Password = the number of password ( 0-9 ) + code ( 00-999 )
1 means first set of password ;
2. Take off original telephone line and replace it to our special line for password setting and connect our cable to DC 9V port of our miser device .
3. Take telephone earcap up,press #, the SYS led will turn to red, and LINK led to orange .
4. If you set 1st password ,please Input 1 ( If you need to set 2nd password ,please press 2 ,and so on ) ,and then input 2-5 digits ( e.g. 3 6 8 ) within 15 seconds ;
5. After the above ,press # again ,SYS LED will be green , LINK led to off ;
6. Hang up and put back telephone earcap ;
7. Take off our special password line and replace it back to your original line .Take out DC 9V battery and change to DC power ;
Set communication to encrypted :
1. Switch on MISER power to on side ; now SYS LED lit up
2. In a international call , after connecting , please first press *# then follow below :
3. A domestic calling , after phone connected, any party press * to activate communication to encrypted ,LINK led will be orange ;
4. Input password which both parties agreed on within 5 seconds, LINK led turns to green ,
5. If LINK led does not change to green ,prease repeat above clause 3 and 4 and confirm password correct ;
6. If above setting successful will mean that your converstation is safe now,no body can monitor, and you can hear ping-pong sound in your talking ;
7. Press * again to disactivate encryption mode , communication will be turned back to normal ,and it is ok to monitor also the ping-pong sound will disappear ;

Notes :
at least need to have 2 pcs to enable encryption works, that is to say ,you and your partner shall have each .